The Beautiful & The Brave
August 22nd-September 5th, 2019
Edinburgh, Perthshire, Isle of Skye, Inverness-shire
Join us for a magnificent, if occasionally unsteady, progress around
Bonnie Scotland
'Auld Reekie', Scotland's fabulous and Romantic capital (at Festival time)
The massed bands and clashing tartans of the famous Edinburgh Tattoo
Dream greens for golfers: St Andrew's, Home of the Open, and Gleneagles
Big Tree Country of Perth – how do you tell a fir from a pine?
Tweeds, tartans and the truth about your Scottish ancestry
Rugged mountains, family seats and centuries-old gardens
Homemade scones at Scone Palace
Museums and galleries ancient and modern, including the new V&A Dundee
The glories of the Highlands, with their dramatic and gory history
Hairy cows and sheep traffic jams
Battlefields at Bannockburn (Scotland 1, England 0) and Culloden (the opposite)
Engineering superstars, the Glenfinnan Viaduct and the Caledonian Canal
The devastating beauty of Glencoe and the eerie depths of Loch Ness
The wild Isle of Skye, refuge of Bonnie Prince Charlie and Flora Macdonald
The rudiments of reeling and whisky tasting, possibly both at once
We will organize tea times and tee times, nips and drams, neeps and tatties.
All we need is you (and your clan, if you have one)
Our Soirées
The goal of these small and elegant confections is to capture the energy of a perfect dinner party—great food, fine wine, excellent conversation, beautiful company—and extend it for an entire trip. The group must be curious, intelligent, and fun. That's you. The hosts need to be witty, charming, and full of great stories. That's us. The location should hum with art, culture, history, stunning sights and culinary delights. This time it's Bonnie Scotland – its Lowlands and Highlands, its Isles and its Lochs – looping up from Edinburgh through Perthshire to the Isle of Skye, east to Loch Ness and Inverness, then back to Edinburgh, with optional add-ons for golfers and culture vultures.
Conley & Silvers small group trips are by invite only and it is an exclusive list. Our guests are culturally curious, fun loving, kind, open minded, enjoy a good history lesson and are physically able to handle the outlined itinerary. No sticks in the mud allowed. Because of this, our repeat client rate is outstanding. Send us a message using the form at the bottom of the page if you'd like more information on this trip and how to get access to the full invitation.
Overview
Today Scotland is a confident nation, more in charge of its own destiny than it has been for many a century, but its roots lie in bloodshed and battle, in ancient tribal rivalries and alliances, in proud clans, a long line of monarchs and the 'Auld Alliance' with France against its powerful Southern neighbor, England. Our bespoke two-week trip is framed by such history, from Edinburgh Castle, high on its rock, brooding guardian of the coronation stone of the Scots, to the desolate site of Culloden, where the flower of Scotland fell in battle against the English; from the ancient monastic settlement of St Andrew's in Fife to Bonnie Prince Charlie's refuge on the glorious Isle of Skye. But nae' fret, for bleak our trip most certainly is not. It will take us on a Scottish odyssey through rocky valleys threaded with clear brown streams and moorlands purple with the last of summer's heather, past medieval castles meeting their reflections in the still waters of lochs and startlingly lush cultivated gardens and arboreta. We will tuck into the best of Scotland's produce in settings that vary from the coziest of traditional to the chicest of contemporary. We will sample the peatiest of whiskies and dip our perfectly pointed toes into the craziest of reels. We will stroll to waterfalls and mull over museums and - of course - will take our turn in the long line of monster-hunters to scour Loch Ness. There will be music, there will be movies – think Outlander and Harry Potter – and there will be magnificence, in the form of people and scenery. Scots Wha Hae!
Highlights
C&S was able to use the power of group numbers, timing, and a bit of fairy dust to put together a trip of a lifetime. Guests enjoy exclusive opportunities that can only be experienced in our Conley & Silvers small group such as private dining at Edinburgh Castle; early access to the Palace of the Holyroodhouse; taking tea with Lady Mansfield at Scone Palace, private access to Drummond Castle Gardens. For our group, we've secured those impossible to get tickets such as VIP seats to the Military Tattoo (on the last night!) and tickets to Adam Tooze's talk at the Edinburgh Book Festival. Get excited about some of the swoon-worthy highlights below, you'll enjoy the services of private battlefield experts, charming local guides, tartan and tasting specialists and superb Scottish chefs – and of course your perfectly aged, if not very Scottish, single malt of a tour manager, Dana Conley.
Exclusive event: Tickets to attend a speaking engagement with our study leader for the trip, Adam Tooze, as he discusses his new critically acclaimed book 'Crashed'
What is the Edinburgh Fringe? It is the world's largest arts that festival transforms Scotland's capital every August, as thousands of performers take to hundreds of stages all over the city to present shows of all kinds and for every taste. As you will see from the video, "on the whole is it's one of the most amazing things I've ever seen. It's like a playground for the imagination. It like a massive fun house. It's one of the most important melting pots for ideas in the world (for the last 70 years!) You can go see anything—circus, dance, cabaret, comedians, actors, buskers…from a serious drama to juggling, to a clown act to a naked drag queen. They cater for every taste."
What makes it special?
Totally open-access, the Fringe is proud to include in their program anyone with a story to tell and a venue willing to host them.

Audiences can enjoy theatre, comedy, dance, circus, cabaret, children's shows, physical theatre, musicals, opera, music, spoken word, exhibitions and events.

It's a magnet for creative producers, the industry and the media making it the biggest and most dynamic international arts market in the world.
Exclusive event: Private fine dining inside Edinburgh Castle with VIP Royal Gallery seats to the Royal Edinburgh Military Tattoo followed by a Champagne discussion with one of the Tattoo producers.
(OMG!!) We defy you not to be stirred by the sight and sound of the Tattoo, with massed marching bands from 52 Scottish regiments, many performers from overseas and fireworks exploding over the Castle's esplanade.
What is the Military Tattoo? The Tattoo is an iconic Edinburgh institution, and a sellout year after year after year. Music, dance and precision display with the Massed Pipes and Drums, the Massed Military Bands, cultural troupes, singers and the poignant refrain of the Lone Piper against the stunning backdrop of Edinburgh Castle.
What makes it special?
Each year's Tattoo is very much a 'global gathering' - showcasing the talents of musicians and performers from every corner of the globe.

Each and every Royal Edinburgh Military Tattoo is different from the last. The Tattoo embraces different themes; nature, creativity and Scotland's homecoming are just some of the concepts explored in recent times.

More than 14 million people have attended the Tattoo, with an annual audience of around 220,000. In addition, around 100 million people see the Tattoo each year on international television. Not a single performance of the Tattoo has ever been cancelled.
Attend the EDINBURGH BOOK festival with author Adam Tooze
Adam Tooze, our historian for the Scotland Soirée, has been asked to present his latest book Crashed: How a Decade of Financial Crises Changed the World at the Edinburgh Book Festival in 2019. His 2018 appearance at the Edinburgh Festival sold out so quickly I couldn't even get a ticket. So, we have secured event tickets for all of our guests coming along on the Soirée in 2019.
Palace of Holyroodhouse & Drummond Castle
Enjoy private openings to the Palace of Holyroodhouse and Drummond Castle Gardens arranged for our group outside of public hours.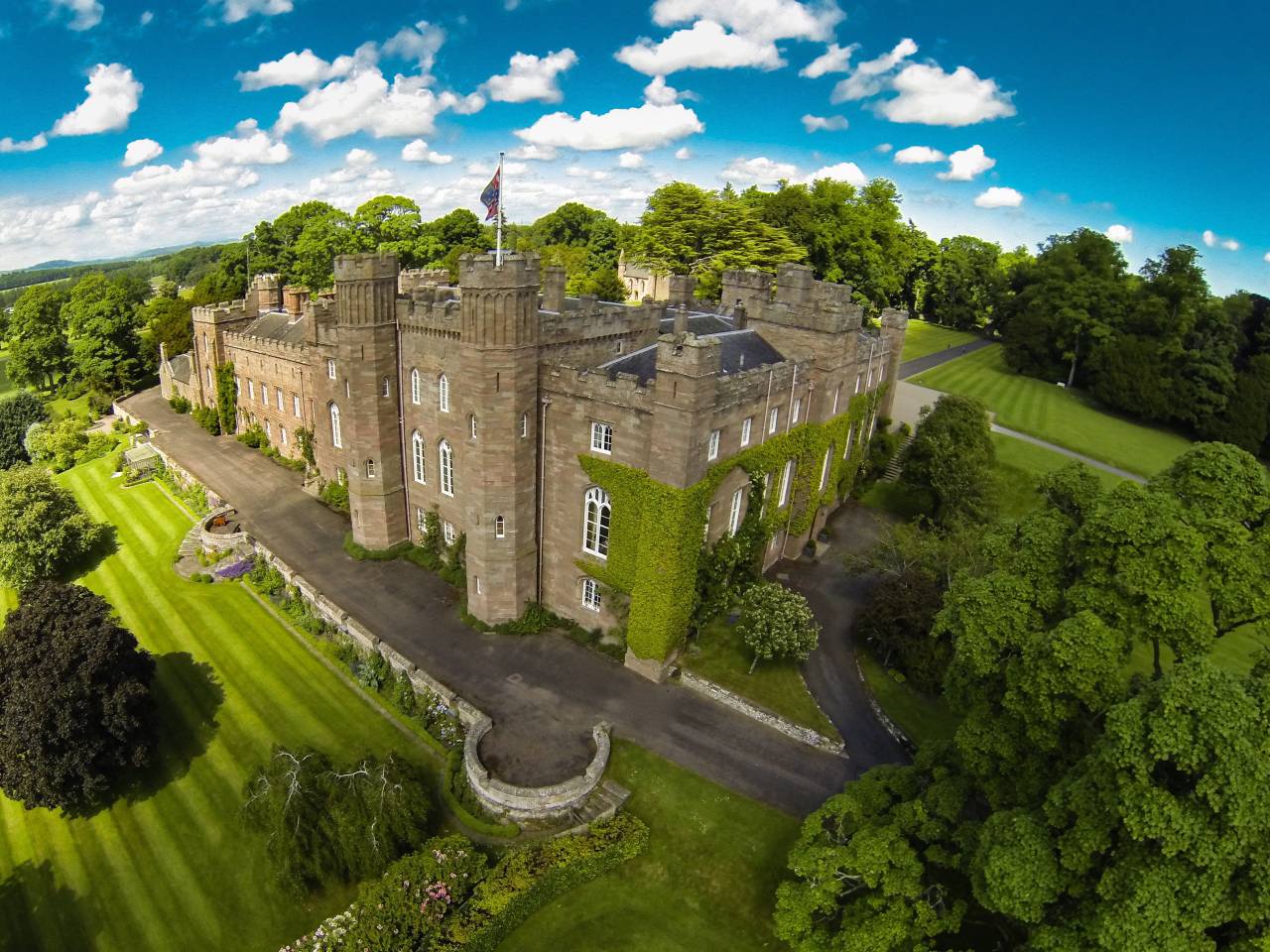 Take tea with Lady Mansfield in her historic home at Scone Palace, the historic crowning place of Scottish kings.
Loll about in utter luxury at Gleneagles spa, or hone your Scottish skills of fly fishing, horse riding, clay pigeon shooting, gundog wrangling, hawking, 4x4 off-roading or hiking.
Gleneagles is a glorious playground, and currently Dana's favorite hotel in the UK. because of its truly unique hospitality experience.
Be amazed by the wildest corners of Skye, with singing seals, remote tweed mills and soaring cliffs fringed by green ocean. Tuck into Skye's gastronomic Three Chimneys and tour Talisker Whisky Distillery.
We have secured Scottish talespinner Hugh Allison to guide our group while on the Isle of Skye and in the Highlands! I met Hugh over 8 years ago and was enthralled by his depth of local knowledge and captivating storytelling. With a lifetime of experience in the culture and heritage of Scotland, and four acclaimed books to his credit, Hugh is waiting to show us his Scotland. Brown nosers can get a head start on reading Hugh's books: "Roots of Stone" is an easy-to-read journey through the last 2,000 years of Scottish history; "Rivers Running Far" looks at the emigration of the Scots to America and Australia; "Culloden Tales" outlines the role that each of the clans played at that tragic battle and also tells the other tales and stories relating to the Inverness area; and "No Lying Quiet" is a modern-day thriller with revenge and retribution storylines colliding across the histories of Scotland and Nova Scotia.
Keep your eyes peeled on a private cruise along creepily deep Loch Ness, for those monster humps. Then drown your disappointment with tea at Urquhart Castle
THEN - Stand in the very stone circle at Craig na Dun where World War II nurse Claire Randall began her time travel in the smash hit Outlander novels and TV shows.
Accommodations
We have personally selected the top hotels in Scotland for our soirée in what we consider to be the best locations. Luxury hotels in Scotland carry a very high price tag in peak season. Because weather is very important to this itinerary, we decided to bite the bullet and go in August/September. Our selected hotels range from a boutique seaside lodge to historic estates to luxury resorts; some offer a limited number of rooms in each category. We have noted the categories for our reserved rooms in the hotel descriptions below—going for a blend of space and views. As no two rooms are the same, we will do our best to be fair when handing out the space and the views over the course of the trip; when pressed, we assign room priority in the order we receive the RSVPs. Should you wish to upgrade your room category in any of the hotels, let us know and we can price that out for you. Alternatively, if you wish to book into smaller classic rooms, let us know and we might be able to offer you a little savings! Remember, we are staying at some of the most luxurious hotels in Scotland, so even the entry-level rooms are fully kitted out and truly wonderful places to stay.
The Balmoral, Edinburgh (4 nights)
Under the care of Rocco Forte and his family this Edinburgh grande dame, which has occupied a prime position on Princes Street since 1902, has evolved into an elegant spa hotel with a pool, views of the castle and rooms designed by Olga Polizzi. This five-star hotel is perfectly placed between the medieval Old Town and the Georgian New Town. All guest rooms will be in the spacious Executive level category with Old Town views.
Gleneagles Hotel, Perthshire (4 nights)
Gleneagles, like the Balmoral, started life as a railway hotel built in the country house style (it still has its own railway station). In this case, it occupies 850 acres of the River Earn valley in Perthshire & Kinross and offers a staggering range of facilities: a five-star hotel, three Championship golf courses, multiple tennis courts and swimming pools, country sports and four excellent restaurants, including one that has earned two Michelin stars! It is a glorious playground. Premium (Estate and Sovereign) rooms have been booked for our group.
Cuillin Hills Hotel, Isle of Skye (3 nights)
This hotel sits in a wonderful position on the north side of Portree Bay, with views over the Sound of Raasay, the cheery pastel cottages on Portree Harbour and the stunning Cuillin Hills. Once a shooting lodge owned by the Macdonald family and later used for woollen mill workers, it sits in 15 acres of land and has spacious, contemporary rooms in the Deluxe and Premiere categories.
Culloden House Hotel, Inverness (1 night)
A fine Georgian house flanked by two pavilions, this 28-room hotel stands on the site of a Jacobean house requisitioned by Bonnie Prince Charlie for three nights before the Battle of Culloden that ended Stuart hopes forever. Dining and décor are in the traditional Scottish country house style, with Adam plasterwork in the bar and dining room. We will be staying in Superior rooms.
Prestonfield Hotel, Edinburgh (1 night)
Incredibly, for an urban hotel, the 23-room Prestonfield sits on 20 acres of land south east of the city and was once a gentleman's residence. It is only 10 minutes from the city center, traffic permitting, and right beside the hill known as Arthur's Seat. A five-star boutique hotel, it is richly and theatrically decorated, making sleeping and dining a sumptuous experience. We will be staying in Luxury rooms.
Confidential & Proprietary Information
Your Tour Director and Study Leaders
We will be accompanied by excellent local guides throughout our trip, personally vetted by your Tour Director, Dana Conley.
Dana fell in love with international travel during college while studying art and politics at the Stanford-in-Florence program. She majored in International Relations and has traveled to over 50 countries in search of authentic adventures, beautiful meals, and life-changing moments to share with her private and organizational clients. Via Conley & Silvers LLC, her goal is to provide guests with the highest level of customer service while creating unique and magical itineraries and events. Before co-founding Conley & Silvers with long-time Stanford mate Alison Silvers, Dana's career spanned from being a researcher at the Pentagon and International security think tanks to art appraisal and directing a gallery. When Dana is not tour managing or on a reconnaissance mission, she divides her time between Europe and New York City where cheese consumption, museum going and walking puppy Ruby reign as her favorite pastimes.
We will be joined by historian Professor Adam Tooze, one of the world's leading experts in modern European history. He is also good fun, a tireless conversationalist, and an experienced travel study leader. Adam studied and taught at Cambridge as well as the London School of Economics, Yale University, and he is now teaching at Columbia University, where he is Director of the European Institute. Adam's current book, Crashed: How a Decade of Financial Crises Changed the World just hit the shelves with tremendous reviews. Adam's last two prizing-winning books, The Wages of Destruction: The Making and Breaking of the Nazi Economy and The Deluge: The Great War and the Remaking of Global Order, 1916-1931 were met with critical acclaim. Adam will be helping us place the sites we are visiting into historical, political, and cultural context.
What to expect
To experience all of our planned activities, and keep us from gaining a few stones, you'll need to be happy with at least four hours of daily walking both in the city as well as in the mountains doing gentle hiking both uphill and down. The ancient towns of Scotland are filled with booby traps like potholes, cobblestones, and stairs without railings.
While we are in the cities or at cultural sites, you can always take a coffee break or grab a taxi. When we are in the countryside, you will need to be able to complete the walks or simply choose to stay back and enjoy the luxury hotel facilities. We will discuss daily the upcoming walking difficulty in advance so you can make your decisions and spa appointments accordingly. Some paths are hilly and have loose gravel so we recommend bringing proper non-slip hiking boots. Of course, we have kept you all in mind when designing this trip, so we've handpicked beautiful walks that we feel most everyone can enjoy.
Luggage allowance is limited per person to: 1 large suitcase + 1 small carry-on + 1 personal item like a handbag.
While we hope that you love the itinerary outlined above, we, of course, reserve the right to mix things up and swap things in to maximize the good times.
The Nitty Gritty
To enhance personal attention and limit costs, we need a minimum of 16 and a maximum of 22 attendees. If you can vouch for your friends and think they would enjoy our company and style, we'd love to have them join. No sticks in the mud allowed. Ages 18 and up only, so we don't have to censor any dinner conversations.
Included:
❖ 13 nights in luxury accommodations
❖ 13 x plentiful breakfasts
❖ 9 x gorgeous dinners
❖ 5 x delectable lunches
❖ 2 x formal afternoon teas in a private setting
❖ Multiple receptions and whisky tastings
❖ Local wine, beer, and soft drinks at lunch and dinner
❖ All group entry fees and tickets
❖ Group airport transfers on the set arrival and departure days
❖ All museum tickets
❖ Group transportation via public and private boats & private coaches
❖ Expert & local guide fees
❖ All gratuities
❖ Movie and book lists to get you excited
❖ Concierge services by Conley & Silvers**
❖ Lots of good stories and great memories
** To help you make the most of time on your own, we will happily help you arrange restaurant reservations and other activities, such as: private tours, golf tee times, horseback riding, tennis lessons, shooting, fishing, spa sessions and biking.
Tell Me More!
Conley & Silvers small group trips are by invite only and it is an exclusive list. Our guests are culturally curious, fun loving, kind, open minded, enjoy a good history lesson and are physically able to handle the outlined itinerary. No sticks in the mud allowed. Because of this, our repeat client rate is outstanding. Send us a message using the form below if you'd like more information on this trip and how to get access to the full invitation.
Never say good-bye, just see you next time!
Dana & The Team at Conley & Silvers
Conley & Silvers LLC
2700 Broadway # 7C, New York, NY 10025
ConleyandSilvers@gmail.com
www.ConleyandSilvers.com
+ 1 347 951 7948
Skype: DanaConley
CST#2107694-40
Confidential & Proprietary Information